Contact Us
| | | | |
| --- | --- | --- | --- |
| Position | Contact Name | Phone # | Email |
| Incident Commander | Mark Bennett | 541-519-8421 | mbennett@bakercounty.org |
| Emergency Management Director | Jason Yencopal | | jyencopal@bakercounty.org |
| Public Information Officer | Holly Kerns | 541-523-0014 | pio@bakercounty.org |
| Public Health Director | Nancy Staten | 541-523-8211 | nstaten@bakercounty.org |
| Business Recovery Director | Bryan Tweit | 541-519-5377 | launchpadbaker@gmail.com |
The Oregon Health Authority has provided the public with answers to Frequently Asked Questions, which can be viewed here.
Cloth Face Coverings are available at the following local stores:
Geiser Grand Gift Shop

Open 8a.m.-10p.m. (daily)
Stop in or call ahead; can do curbside delivery, please call 541-523-1889
$7.50-9.50, depending on richness of fabric and size
May preview on facebook.com/geisergrand

Treasure Every Stitch

Please call 541-523-9499
Call or visit to order and purchase
$8 each (large quantities can be ordered)

D&B Supply

Please call 541-523-6442
Visit store to purchase (may be out of stock)
$10 each

No. 1911

To order, please call 541-523-4321
$18 each – bandana mask kits

Bella Main Street Market/Bella Mercantile

Please call 541-523-7490
Visit store at 2023 Main Street
Visit our Facebook page for more information
Interested in Recreational Closure Information?
Travel Oregon Closure Information
Meeting Local Needs Together:
Baker County has coordinated with the local faith-based community and service groups, and we are ready to work together to meet needs that may arise from the spread of COVID-19 and the Stay Home, Save Lives order. The social fabric of this community is strong, and it's important to look out for each other as we work through this unprecedented event together. If anyone has a need that family or friends cannot help with, such as getting medications picked up or groceries delivered, please call Baker County and we will do our best to assist. The number is 541-523-0015. If the call goes to voicemail, please leave a message with your contact information and someone will get back to you as soon as possible.
Support Your Local Businesses:
The Baker County Chamber of Commerce has provided a list of restaurants providing takeout or delivery dining. Please continue to support our local businesses! http://www.visitbaker.com/dining
Baker City Downtown shared a great list of Baker City restaurants, including phone numbers, on their Facebook page: https://www.facebook.com/BakerCityDowntown/posts/878765202545906
Community Resources:
Community Connection of Baker County is not serving meals in the dining hall, but continues to serve carry-out meals Monday – Friday 11:30am – 12:30pm. The cost for seniors over 60 is a suggested donation of $4.50 and for citizens under 60 the cost is $6.75. The daily meals can be picked up at the east entrance to the Baker Senior Center. Community Connection's transportation services are operating as usual.
New Directions Northwest, Inc. has added same-day urgent/walk-in and telehealth services at their Total Health Facility to meet the needs of community members during this time of COVID-19. Instructions on obtaining telehealth services can be accessed here. For more information, please see the attached flier.
The Baker City Christian Church has a new sharing pantry located at 675 Hwy 7. This pantry is located along the road on the side entrance.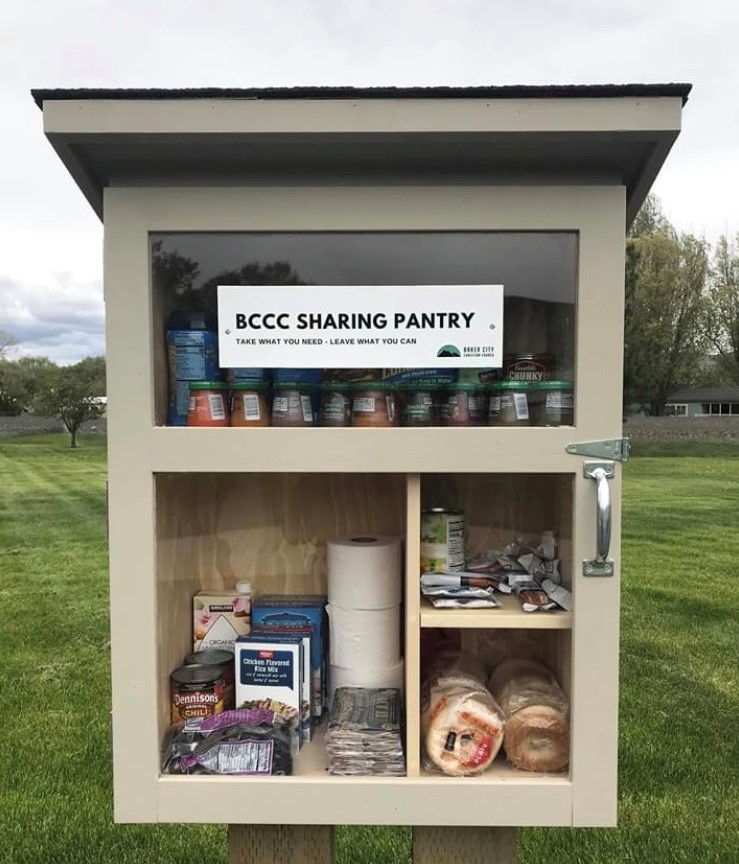 Needing Help with Groceries?
Baker County Food Banks
Bread of Life Baker County
541-403-1227
3453 H Street Baker City, OR 97814
2nd and last Tuesday 9 am – 12 PM
Halfway Lions Club Foodbank
541-742-7892
Corner of Lion and Pine St., Halfway, OR 97834
3rd Monday 11:30 AM – 12:30 PM
Huntington Chamber of Commerce
208-475-4761
110 East Fulton Huntington, OR 97907
3rd Saturday 9-11 AM
Please observe CDC guidelines. Wear a facemask if possible.
Salvation Army
541-523-5853
2505 Broadway Baker City, OR 97814
Monday, Wednesday and Friday 1:30-4:00 PM
If 60 or older or high risk you may qualify for delivery. Ask for Holly for more details.
Compassion Center
541-523-9845
1250 Hughes Lane, Baker City, OR 97814
Thursday from 9AM-3PM by appointment only.
North Powder Foodbank
541-709-1045
390 E Street, North Powder, OR 97867
Food box: 3rd Friday
3-6 PM (at 390 E St).
Thursday 1:30-3 PM for fresh foods (at The Grange).

Paperwork to fill out.
Sharing Pantry
Corner of H and 11th
24 hours a day, 7 days a week

Leave what you can, take what you need.
The Oregon Health Authority (OHA) has provided an updated list of resources for families of children and youth with special needs. This list can be found here.
Oregon Health Plan:
St. Alphonsus of Baker City offers help with applying or reapplying for OHP. Call to schedule an appointment. If your last name begins with letters A-N call Deby Moore at 541-524-7862. If your last name begins with O-Z call Glynda Anderson at 541-524-7742.
Health Insurance Assistance: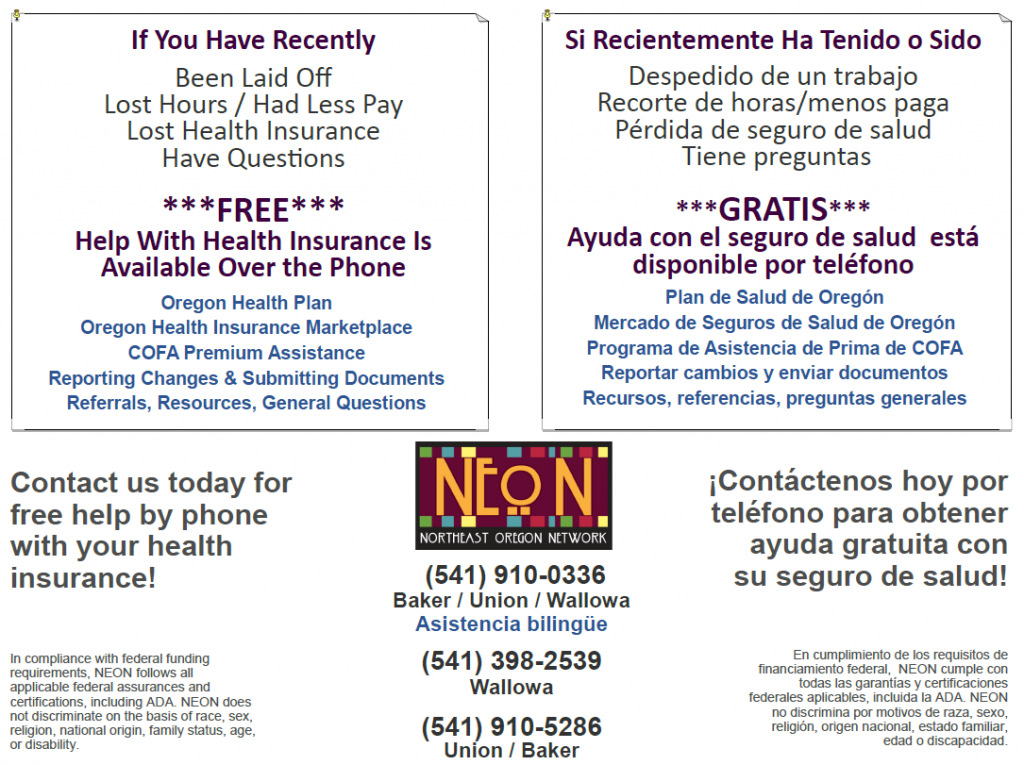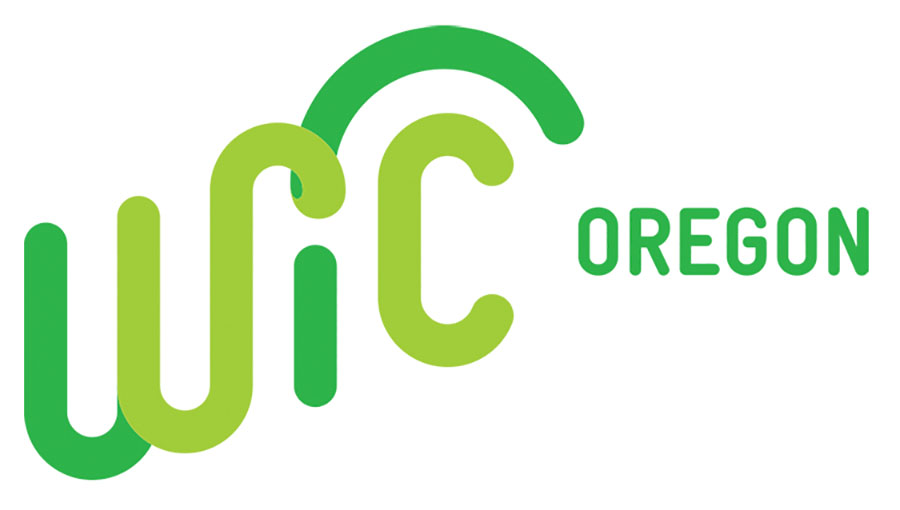 Oregon WIC Program: Special Supplemental Nutrition Program for Women, Infants and Children
Baker County WIC provides Nutrition Education, Breastfeeding Support, Healthy Foods and Referrals for health and social services.
Baker 5J School District:
Baker 5J School District has provided a list of online resources to help support students and families while schools are closed.
Current information for school closures and health information are provided here.
Updates from Base Camp Baker can be found here:
Covid 19 updates, links and additional information
June 2020 Archives
Wallowa-Whitman National Forest Free Firewood Permit Information